Land Rover
Freelander all years EDC diesel pumps suffer from low fuel delivery, cause being, malfunctioning internal IE valve (cheap fix) or worn main shaft (written off pump) odds are about 50-50 either way. The Bosch /Rover EDC unit fitted to 200/400/600 diesels from May 95 - May 00, and Freelander with L series diesel engines are now becoming a common failure. This ECU is particularly susceptible to voltage spikes when jump starting.
Freelander all years hill decent problem & traction control problems can be attributed to a faulty brake position switch or the connected wiring. This can be tested in situ with a multimeter. Brake position switches are poorly made & thus a common failure. Camel Trophy rally teams are known to carry multiple spares of these components.
Landrover GEMINI engines - power loss, smoke, not stopping on key. Inevitably caused by injection pump internal collapse.
LandRover TD5
UIS

-

EUI

-

PD
systems
Although regarded as a whole new system the actual principle of this injection system began with the American engine builders, Cummins. The Cummins PT systems was fitted to many trucks and became a legend at that tim

e,

due to it's reliability and economy. UIS (unit Injection System), EUI (Electronic Unit Injection) or PDE (Pump Duse Einheit) systems are fitted to an increasing number of vehicles including Volvo FH12 trucks, LandRover TD5. VAG PD. This injection system also has no

distributor injection pump and injection pressures up to 2000bar are achieved via the cam shaft acting upon the individual pump unit per cylinder. Again, this system is highly sensitive to contamination and the price of replacement parts is very high - no

frightening a better description!

VAG have stopped production of PD engines due to high rates of camshaft failures due to excessive wear, I think this is more down to longlife servicing intervals of 20.000miles than engine design.
Landrover TD5

early
ECU modules are known to fail when subjected to extreme temperatures. It is commonly believed in the trade the later models have been fitted with a more temperature tolerant hybrid design.

Landrover TD5 MY99 systems suffer engine ECU module damage. Engine oil penetrates the injector wiring loom, and osmisises back to the engine ECU, effectively destroying it. Replace loom & ECU, but there is no mod available to prevent reoccurrence.

Landrover TD5 > 2004 all models including Disco 2. Suffer engine not stopping when key is removed, this is due to lighting problems. Symptoms include radio-clock illumination failing when reverse gear is engaged. Ignition switch supply share lighting feeds. Problem can be traced to rear brake-side light earth terminals next to bulbs in rear light clusters.

Landrover TD5 > 2004 all models including Disco 2. Suffer engine fuel pressure regulator leaking diesel. Not a nice job, very fiddly due to poor access. Alloy casting cracks if the fuel unions are over tightened.

Range Rover P38 all years suffer non switching or lazy switching for air-con. Fault maybe due to temp sensor behind valance below front bumper, or more than likely the ECU control unit built into the air-con head unit. These modules can cost £700+. The module is nearly always repairable at about £100 on top of test fee and return postage of £50 (22-05-06)

Range Rover Classic Air Suspension - suspension warning lights stay on after vehicle is started, no DTC's stored in ECU, but the suspension compressor remains inoperative. Check compressor temperature reading, thru serial data. If the data line reads HOT, bridge the pins 16 & 18 on the Air Suspension ECU. The temperature will then read COLD, and the compressor will operate. Only known fix is to replace compressor.

Range Rover and Land Rover Discovery suffer from Body Electrical Control Module (BeCM) problems. Due to water ingress down the sills the Range Rover and Land Rover Discovery suffer a lot of problems with the BeCM. Before blaming the BeCM please check the engine compartment fusebox, as it takes all its feeds from here, this fusebox suffers from corrosion, and thus it has been recommended to be changed every four to five years as a matter of course by manufacturers/main dealers. We see a lot of BeCM failures causing headlight, wipers/washers, heated windows, door locks, electric windows, fuel filler cap, sun roof and indicator problems. BeCM fault symptoms include mis-operation of headlights, door locks, electric windows, fuel filler flap, indicators, sun roof and especially rear wash/wipe. These faults may be intermittent. If you have changed your fusebox and you're still getting problems related to fuse fail codes, this can also be the BeCM. The advantage of an own unit rebuild is that it avoids programming costs associated with buying a new unit. Also, if you fit a second hand one, the vehicle will then read the mileage of whichever out of the odometer or the BeCM has the highest reading. This is an irreversible process. You will also have issues with door lock reprogramming. We can test & repair these modules, we also stock new & secondhand spare parts off the shelf. BeCM test fee is £50.50 including return postage. Re-programming of other modules is possible if the original lock- set code for the vehicle can be supplied. HSE, high-line specification modules cost the earth. There also seems to be a shortage of good secondhand modules about, due to the high failure rate.

Range Rover 97> onwards Lucas remanufactured ECU modules. Supplied by Lucas are not very reliable. We have had a considerable amount sent to us over the years (many from EU countries). We do not re-sell them, even if they are repairable.

Range Rover early 4 Litre misfire problems with 4 litre up to introduction of distributor-less engine management systems. Misfire in engine speed range 1500 to 2500 rpm. Possible cause is alternator cabling running too close to distributor body. Inductive pick up seems to throw the ignition trigger pulses. Misfire at idle.

Possible cause is ignition reluctor pick up air clearance. Try resetting as per workshop manual.

Upgrades for V8 engines

Range Rover & Gems engine Land Rover Defender 90-110 Discovery V8

Custom mapping and diagnostics service for GEMS fuel injection systems.

10% increase in fuel economy with additional 10-15lb/ft torque & 10-15bhp.

GEMS ECU fully re-programmable units for new-classic shape Range Rover, GEMS Defender and Discovery. Performance and economy upgrades for all vehicles. Essential for engine capacity upgrades 4.0 4.6 4.8 5.2.

3.5 EFi 1982>89

ECU module 8-9% Mpg economy upgrades £89.00 Including insured return postage.

The facts about this very popular low cost conversion are as follows, it is a trade off between power & economy, 5% less power for 8-9% more MPG with no noticeable loss of torque. Most customers never notice the loss of power from the big Buick based V8.

3.9 1989>94

ECU module Mpg economy upgrades £117.00 Including insured return postage.

4.2 1993>94

ECU module Power/Mpg economy upgrades £139.00 Including insured return postage.

4.0 1994>02

ECU module Power/Mpg economy upgrades £246.00 Including insured return postage.

4.6 1999>02

ECU module Power/Mpg economy upgrades £183.00 Including insured return postage.

LPG conversion re-mapping, lambda correction analysis & general advice with problems fitting kits, we have fitted hundreds of LPG kits over the years & may have encountered-overcome the same problem you are suffering.

Lucas 4CU 14CUX We can supply our own, remanufactured exchange ECU units. Repairs and testing. Upgraded versions offering more power with improved fuel economy.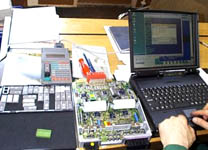 Testing older type MEMS modules.
Page updated 28-05-18
(date information written)