Bosch Rexroth two post hydraulic lift motor replacements
Page updated 28-05-18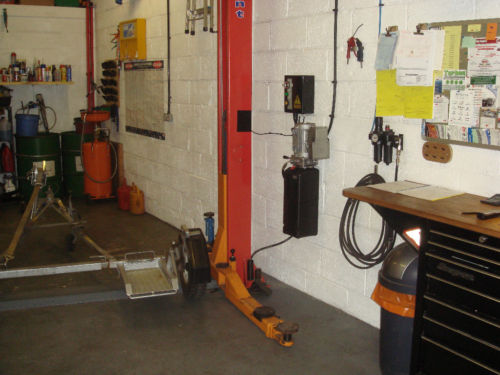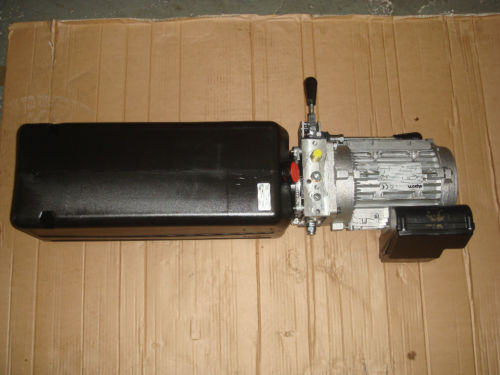 Will bolt onto standard lift posts (picture shows it mounted on wall).
Brand new in box ELPROM (Bosch Rexroth) single phase hydraulic garage ramp lift motor-pump-reservoir .
Will fit all hydraulic two post ramps up to 4000kgs, will work on 2500kgs or 3000kgs ramps if you turn the built in fluid regulator down. Hydraulic pump is rated at 10.7cc a min (standard pumps are about 6-7cc a min). So it is quick lift pump.
Electric motor is rated at 240v 2.2kw 14.5amps. Dual soft start motor for single phase supplies. If you need a three phase one, we can get them too.
These units have a unique hand pump on the hydraulic pump, to lift the ramp off the safety stops in the event of power failure.
Some customers have bought the units to convert three phase ramps to single phase! The unit must be fitted with a on/off switch and suitable overload device. But if you buying for a replacement part, your ramp will already have this fitted from new. This only becomes an issue if you are doing a phase conversion. Overload should be set at 20amp type C curve to protect the motor and provide longlife.
This is not a cheap made in China item, it is a top spec Bosch Reroth unit marketed by Elprom in Italy. We have one fitted in our own workshop so we can demonstate the item before sale
Please ring to arrange collection or you own carrier, before purchase. Or collect in person from PE301PH
We except cards over the phone.
We are out of stock at the moment! The factory in Italy has burnt down (sad but true!)
Ring us on 01553 782929 for a chat, asking for Peter, so we can clarify any questions you have before purchase.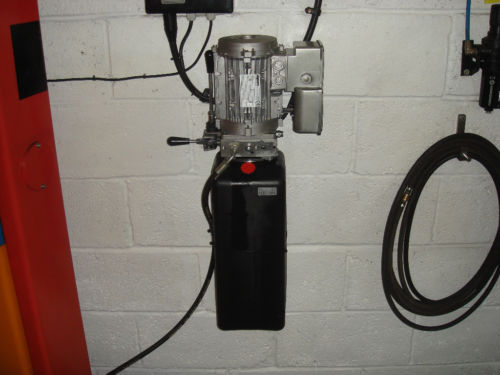 (date information written)