Mercedes W123 W124 W210 service & repair
Page updated 28-05-18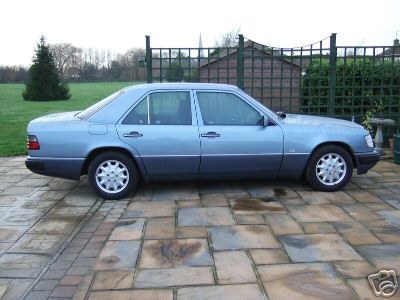 1990 Mercedes W124 300D saloon with 539.000 miles on the clock.
I am very interested in the simplicity and longevity of these vehicles. If you own a diesel W123 W124 200-240-250-300 D-TD 1979-1995 and live close to King's Lynn, Norfolk. I would be prepared to undertake selected repairs & servicing work at our workshop. I am very well equipped for this type of work. After repairing my present-previous Mercs and numerous customers cars. I have found some reliable sources for used parts & the cheapest suppliers for new bits.
Below is just a small sample of the help I could provide the DIY repairer....
In-situ diesel injector pressure testing, diesel injector pump pressure testing, using Crypton Dieseltune equipment.
Diesel injector leak-off testing, overnight pump leak-down testing. Gravity feeding with exact volume for non-starter diagnosis.
Diesel injector pressure & spray pattern testing & rebuilding, using a portable Bosch EFEP 60H bench tester.
In-situ diesel injector, piezo pulse comparative injector testing & in-situ RPM governor adjustments.
Diesel pump removal/re-fitting/timing. Dynamic electronic pulse timing for inline or rotary pumps.
Threaded injector removal (stubborn M24 type).
Diesel engine compression testing thru threaded injector ports & glowplug holes.
Inductive glowplug testing for amperage & function.
Coolant leak down pressure testing.
Leaking headgasket testing, using combustion gas sniffer.
Electronic direct contact or dynamic strobe feedback diesel tacho setting (for auto gearbox control).
Oil pressure testing.
Vacuum testing.
Brake & diesel pipe flaring & bending. Vacuum brake bleeding for complete fluid exchange.
Exhaust gas analyser, emissions diagnostics.
Welding MIG MMA (Magnesium & silicon based aluminium MIG in argon).
30ton press-frame, oxygen/propane for heating, cutting & removal of stubborn parts.
Handheld 10Mhz single channel oscilloscope for testing ABS, crankshaft sensors, temp & cruise control hall effect sensors.
Petrol injection & ignition diagnosis, using PC based 20Mhz dual channel oscilloscope & non intrusive Kv probes & inductive DC current clamps.
Wiring diagrams, Mitchell USA + genuine Mercedes WIS (plus the very poor offerings in Haynes manuals).
Tyre changing, repairs & static balancing.
Bosch battery load testing, using Bosch T12 200E tester.
In-situ alternator amperage output testing, rectifier testing.
Pullers & help in fabricating special one off tools.
MOT preparation.
My personal mobile phone number is 07816 424847.
I will undertake work on selected Mercedes petrol-LPG vehicles.
W124 300D 1985-93 non turbo six cylinder 3.0ltr diesel 113bhp 603.912 engine with Bosch PES6MRS156 inline pump, 4 speed autobox and duplex chain driven single OHC, one of the best engines every made. No cambelts to break. Have seen many examples with 200.000 to 500.000 thousand miles on the clock. Simple, quiet diesel and very well built. Turbo version with PES6MR157-1 pump at 147bhp more powerful, but if its simplicity & longevity your after, seek out at normally aspirated model. Avoid cars with ABS thou it's fitted to most cars, air conditioning, and later models with electronic idle control on the diesel pump. MPG for non turbo version is above 35 round town (38ish), rising to as much as 45mpg on a run. Manual gearbox models have an agricultural feel and suffer from selection shaft problems, which break causing gear selection failure, early USA spec & later UK-Euro 5speed auto with electronic switch offers no advantage & was only fitted to six cylinder petrol engines after 1992. W124 saloon body-shell still looks acceptable today compared with modern cars. Only improvement needed to the engine is to fit a Bosch upgrade to the diesel primer pump, as the older type tend to leak. W124 300D's make excellent tow cars. They will tow huge caravans and overloaded twin axle car transporters with ease, up hills and into high winds. I would recommend the removal of both plastic underbody trays, to improve airflow and thus cooling to auto transmission models. But don't be tempted to take them over wet grass, they will sink if left parked even on a level flat field. I've had mine stuck countless times.
A very few S-Class bodyshells up to 1994 were fitted with the 603.912 TD engine and sold in the UK. I have only ever seen one for sale, a black LWB ex embassy model with internal partition and flag holder on the roof. Star-ship mileage of 1.065.000 put me off the purchase. By all accounts, embassy staff used to regularly drive it to North Africa with documents in the boot, after driving thru Europe and crossing the Med' on a ferry. On inspection the stunning bodywork had been subject to multiple repairs to front-rear wings and all doors and the interior had been re-trimmed in black leather. The genuine documented Mercedes service history, after clocking over a million miles made interesting reading. Renewed items included, three auto gearboxes, two turbochargers, one steering box, one back axle and complete rear suspension due to impact damage and four steering wheels! The original engine, only had the cylinder-head removed once for attention to suspect exhaust valves, which were ok on inspection. All the bottom end, mains bearing and pistons were as original.....!

1.065.000 miles on the clock!
W210 bodyshells made after 1995 rust badly. Early models have the excellent 603.912 TD engine fitted but lack the build quality of the earlier W123-124 bodyshells. So they are best avoided, unless very cheap and very low mileage, and you can spare the time with a mig welder, filler and a spraygun. Only redeeming point for the rust prone front wings on the W210 bodyshell is that they are of the bolt on type, and are available dirt cheap as pattern parts over the net, there must be plenty of demand for them. Front crossmembers and floorpans can rust thru in less than seven years. Sills don't seem to rust, so when viewing a car for sale, look under it, not just along the sides! Rumour in the trade is the environmentally friendly paint they started using at that time, was not up to the job! High solids, no solvent. Shame... I think the W210 was a nice looking car & could have been tempted for an upgrade.
G-Wagon 4x4's rust and auto transmission repairs are a nightmare to enact. Best avoided.... W460 300GD 1988 made with a 603 engine fitted, manual gearbox, three locking differentials as standard, with transmission is made by Steyr. Is one of the better 4x4's ever made, but transmission wise they are a nightmare to keep on the road.
Land Cruiser 80 series 4.2 TD 1993-1997 with the straight six cylinder 1HD engine and manual gearbox and standard front and rear diff locks. Is probably the most capable standard 4x4 vehicle ever made. Early Merc 300GD G-wagon, fitted with manual gearbox and the fragile Streyr transmission is a close second, not the later high spec-cost LWB V8 petrol engine models designed for far eastern oil princes. Followed by Land Rovers Defender 90-110 with a 300Tdi engine. Military spec 70 series Toyotas are also very good, they are still being made in South America, but the vehicles and parts are just not availible in Europe. Oh... If you want to go anywhere and you can afford the fuel, Merc Uni-Mogs and ex MOD TK 6-ton bedford trucks are the vehicle of choice.
One of our customers has driven a LHD 1990 W124 estate model with 398.000 on the clock, from Norfolk to Africa and back. Only preparation we did for the 10.000 mile journey was. Basic servicing, rebuilding the diesel pump with second-hand parts. Fit a second battery with split charge relay/12v fluorescent interior light, fit navsat, supply jump leads. Remove all rear seats including the extra row of seats in the load area, remove rear window regulators. Fabricate a second fuel tank in the redundant rear load area seat well and fit another spare steel wheel-tyre upright in the boot on a fabricated bracket. We fitted a secondhand Eberspacher diesel fueled lorry cab heater for sleeping in the back of the estate car with all the seats removed. The customer made a primitive plywood storage system in the load area to sleep on and store all his kit for the trip. Also we fitted a second-hand steel sump-guard, Merc part number 481. Apart from punctures and small bump in the rear bumper, the ten thousand mile trip went without mechanical incident. A testament to German engineering... We have in the past, prepared Land Rover Series III's with Isuzu engines, low mileage 110 defenders with 300TDi engines, fitted with vernier gear cambelt drive conversions, for similar trips. Some of them never made it...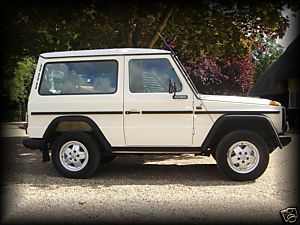 Mercedes W460 300GD 1988 with a 603 engine, manual gearbox, three locking diffs fitted as standard, transmission is made by Steyr.
Mercedes-Benz Engine Codes
| | | | | | | | |
| --- | --- | --- | --- | --- | --- | --- | --- |
| Petrol | | | | Diesel | | | |
| 102 | 1.8 - 2.5 | 80 - 92 | 4cyl | 601 | 2.0 - 2.4 | 83 - 99 | 4cyl |
| 103 | 2.6 - 3.0 | 85 - 93 | 6cyl | 602 | 2.5 - 2.9 | 83 - 99 | 5cyl |
| 104 | 2.8 - 3.2 | 89 - 98 | 6cyl | 603 | 3.0 | 85 - 99 | 6cyl |
| 110 | 2.8 | 68 - 85 | 6cyl | 604 | 2.2 | 83 - 99 | 4cyl |
| 111 | 1.8 - 2.3 | 93> | 4cyl | 605 | 2.5 | 92 - 99 | 5cyl |
| 112 | 2.4 - 3.5 | 98> | V6 | 606 | 3.0 | 92 - 99 | 6cyl |
| 113 | 4.3 - 5.5 | 98> | V8 | 611 | 2.0 - 2.2 | 99> | 4cyl |
| 115 | 2.0 - 2.3 | 68 - 80 | 4cyl | 612 | 2.7 | 99> | 5cyl |
| 116 | 3.5 - 4.2 | 72 - 90 | V8 | 613 | 3.2 | 99> | 6cyl |
| 117 | 4.5 - 5.6 | 72 - 90 | V8 | 616 | 2.4 | 68 - 85 | 4cyl |
| 119 | 4.2 - 5.0 | 90 - 99 | V8 | 617 | 3.0 | 76 - 85 | 5cyl |
| 120 | 6.0 | 91 - 99 | V12 | 628 | 4.0 | 05> | V8 |
| 123 | 2.5 | 76 - 85 | 6cyl | 640 | 1.6 - 2.0 | 05> | 4cyl |
| 137 | 6.0 | 00 - 02 | V12 | 642 | 3.2 | 04> | V6 |
| 166 | 1.4 - 2.1 | 97> | 4cyl | 646 | 2.2 | 03> | 4cyl |
| 266 | 1.5 - 2.0 | 05> | 4cyl | 647 | 2.7 | 03> | 5cyl |
| 271 | 1.8 | 01> | 4cyl | 648 | 3.2 | 03> | 6cyl |
| 272 | 3.5 | 04> | V6 | 668 | 1.7 | 97> | 4cyl |
| 275 | 6.0 | 03> | V12 | | | | |