Positive Feedback
We do not sell on Ebay. If anybody uses our name to prove the function of secondhand pumps and ECU units, ignore them. We have suffered people using our company name on Ebay. I would not recommend buying a used pump from Ebay, all thou it may seem a cheaper option, its very likely not to work, I've spoken to hundreds of poor people who have bought a pump, fitted it, then had to remove it. They have been £££ out of pocket and got no further repairing the car!
Most parts sold from salvage cars and scrap yards are sold un-proven and un-tested. It is a fact!
Beware Ebay sellers offering programing of PSG16 diesel pumps. The correct method is to program the pump thru the P-Bus in the CIM in situ on the vehicle. Yes they may start your car when fitted. But you may not have all the fuctions for drive a phase (running) and diagnostics into the future.
As for positive feedback. Below are some comments we have recieved from our customers.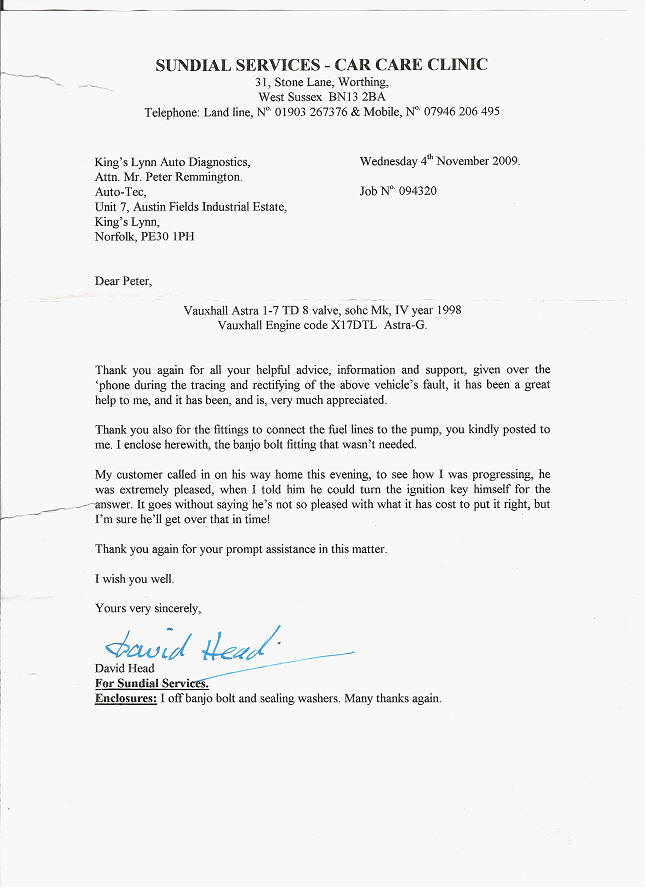 Dear Pete,
Thanks for that advice as you really did not need to do that for us, Shaun is stuck in
the middle i.e between customer and supplier , the information you have given us is
very very helpful and for the "personal" input from you, thanks. You are one of the
trades nicer people. We very often have fuel pump problems and in the future you can
guarantee we will be coming to you ,
Regards
Jude

To: p@remmington.plus.com <remmington@remmington.plus.com>
Subject: Re: transit pump
From: "Shaun Walton" <m1group88@yahoo.co.uk>
Date: Thursday, 10 December, 2009, 21:36


12-09-2013
Hello Peter
I have just received back my parts and just want to say how very pleased and impressed I am with the service you have given us here at Tiden Engineering Ltd.
Not only have you saved us money in giving us an engineering solution to the problem with our customers Kia Sedona 2.9 diesel but the quality and fast turnaround of the work has enabled us to in turn offer our customer a cost effective alternative to what could have been a very costly repair.
I will have no problem in recommending you and your services to my colleagues in the trade and now I know about the other services you offer with ECU's Etc. I will no doubt be contacting you again in the future.

Best Regard
Dennis Pendleton
Tiden Engineering Ltd.
dennis.pendleton@tiden.co.uk
Hi Peter
Received ecm back today, but still got some more things to check before refitting, Thank you very much for the swift turn around of ecm, very impressed with your service.
Regards
Richard
shrewsburytaxi@gmail.com 06/02/2015

On 01/05/2015 1:59 pm, agentgorringe design studio wrote:
hi Peter

Just wanted to say a massive thank you for your work and support during our VP44 headache, car is now running well and seems to be more fuel efficient too, we are listing it for sale and with the new pump it will probably be the best one on the market!

If there is anything I can do to reciprocate your efforts, possibly graphics, websites etc - please do not hesitate to call - even if it's just for some advice, I'll be more than happy help.





regards
Tim Gorringe






agentgorringe design studio |

Retouching | Design | Web
d

a.electrical@hotmail.co.uk
01/03/2016 Re: free running ecu fiat doblo. Thanks for the work carried out on doblo ecu. Finally got to botton of fault.was at ecu 94 pin plug on k.line cable. Van going a treat now. Cable was broken inside insulation.
andyhill78@hotmail.com 17/06/2016 Re: Kia. Peter. I would like to say that my Kia Sedona is running like a dream since you carried out repairs on it and the ECU remapping has increased my miles per tank even though I towed a van for 1/4 of the time. Thank you for comprehensively explaining the work carried out with me and for your opinion about the car, I really appreciate it and am so glad I didn't scrap it. Thanks Andy.
Hello Peter. Just a quick note to say thank you for the work you did on my 'Terminal' Sedona. It is all running as it should be, and I completed the oil-change at 1000 miles as per the written instructions. I was really impressed with your knowledge of the problem and really appreciate the time you took to explain the cause of the problem, and what I could do to prevent it recurring.Thanks again for the work you did, Fantastic job, would recommend you to anyone. Sincerely Martin Rodgers. mrty@hotmail.co.uk
Peter.

Fantastic work I can't believe its done. I just want to say Peter thank you again for all your help. You really have gone above and beyond to help us out. This really was a nightmare scenario for us, car broken down a long way from home (another country) with no one wanting to help! I'm so glad I stumbled across you number. I had a small building company in the UK and when people ask me why i moved to France I used to say I was sick of no one keeping their word " I call you!, it will be there tomorrow, I'll pay on time! " well Peter I'd have to say you are the exception to the rule and an absolute gentleman. I cannot thank you enough. Hopefully in the future we can meet because i would like to shake you hand.

Kindest regards James

On Nov 6, 2017 7:27 PM james.bennett29@btinternet.com
Page updated 28-05-18